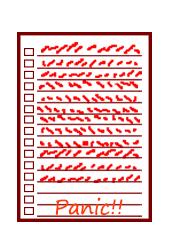 Last weekend I was in the Creator's Alley at InConJunction, a science fiction convention. Generally the Creator's Alley, or Artist's Alley, is an area of the convention where artists can show and sell their work, take commissions, create instant art for sale, and demo their artwork. It generally is fairly inexpensive compared to getting a table in the dealer's hall, and is restricted to only those people who create their own work to sell.

I actually wasn't expecting to have a table there, as they had sold out by the time I contacted them. But 2 weeks before the convention, they let me know that a table had opened up. Panic time! Prior to that, I had planned my schedule around my next show at Detcon a couple weeks later. Now I had to put my schedule into overdrive, doing all the things needed for a decent display in two weeks instead of four. Lions and Tigers and Bears, Oh My! I'm still gearing up for doing art shows and fairs, so I'm in the process of creating an art booth display. I had an idea in mind, but not a lot of it was actually implemented yet. So what did I need to get done?


Create to-do list
Complete 2 new pieces before Monday. (I try to get at least one new piece finished for each show I do.)
Bring new art to printer for scanning.
Order more prints of certain pieces, including new ones.
Order matboard, so I can "frame" prints for sale.
Create/print "we take credit card" sign.
Create/print title card for each art piece - 2 for those also in the art show at the convention.
Create/print mailing list form to collect emails at the convention.
Finalize/print large version of business logo/sign for use in display.
Prepare/update inventory and prices in Square app.
Print several catalogs detailing the sizes/prices available for each piece through my website.
Work with my husband on the backdrop stand for displaying artwork behind table.
Prepare documentation for the table and art show - bid sheets, table contract, etc.
Create/print custom receipts with my logo and contact information.
Confirm hotel reservations.
Prepare pieces for art show.
Purchase fabric to match logo/sign, plus matching contrast fabric and backdrop fabric.
purchase "bins" to display prints
Ack! Matboard order didn't arrive, so frantically re-work art show pieces and reprint control sheets and bid sheets the night before the convention!
Pack everything for trip.
Finish drawing/inking new seasonal pieces.
Bring new pieces to printer for initial scanning.
Upload the scans of the 2 new color pieces to my print-on-demand site.
Upload new B/W pieces to my print-on-demand site.
Upload pictures of new color pieces to Facebook.
Add pricetags to all prints.
Create/print generic price list - ie. 9x12 print = $25, etc.
Order some greetings cards from print-on-demand site for point-of-sale purchase.
Purchase portfolio book for customers to flip through to see all work available.
Of course, this doesn't include things I had already finished, including getting my website set up, my print-on-demand account created and populated with most of my work, business cards designed/printed, Facebook page created for my art, and Paypal account and Square account set up for taking credit card sales. With my preparation time cut in half, I obviously didn't get everything done. The items above in italics were at the bottom of my list and had to wait until after the convention, either because I ran out of time, or because I didn't receive my order in time. The matboard order, which also included acid free tape, backing board, and clear bags for my matted prints actually reached my local FedEx office, but didn't get delivered to my house before we had to leave, so most of my prints were loose. The backdrop wasn't finished yet, so I had to make do with a big piece of cardboard propped up on a chair. Did that affect sales? Probably a bit, since people like to buy something they can hang immediately, and a professional looking setup gives a better impression to potential buyers.
With all that work, you may wonder if it is worth it to do shows. In this case, a slow year at the convention led to no sales for many of us. However, since it is a convention my husband and I attend regularly, the discounted registration cost for being a vendor made up for the cost of the table. Also, I did get several new names for my mailing list, and a lot more people took my business card after spending some time looking at my art and speaking with me. Many people exclaimed about how beautiful they thought the art was, so I'm hoping to get some sales, or at least some more mailing list subscriptions out of it. Plus, they encourage artists to demo their process, so I was able to make significant progress on one of my new pieces during the show. My neighbor, a web comic artist, also gave me some good information about shows in Wisconsin, which isn't too much of a distance for me to travel. Of course, I would have been happier if I sold some pieces, but in all it was a good networking weekend. Plus, many things on that first to-do list were one-time tasks, to create a new booth setup for 2D art, so I won't have to do them again. I can concentrate on making something new, instead!
For those of you who do art or craft shows, is there anything else you consider a must-have item? What does your list look like when preparing and packing for a show?
If you want to receive information about me or my artwork, please consider signing up for my mailing list using the "more information" button below. Thanks!