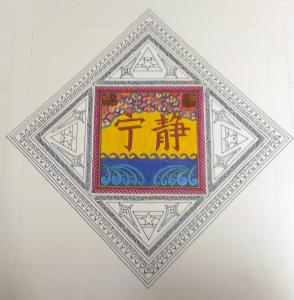 Hi there and welcome!

I'm going to try to update this blog about once a week, or at least twice a month. Here you will find my thoughts on creating, samples of works in progress, and other interesting tidbits I decide to share with you. The world of art often seems to be a vast, mysterious place, but I intend to share with you some of my mystery. Artists are like most people - we work hard, continuously learn new things to make our work better, and try to have fun while we're doing it. So read on to hear about my trials, tribulations, and triumphs as I explore this new world of drawing on paper.

What kinds of things will you see here? Well, you'll see posts about works in progress, like the image in this post of interlocked squares. That's "Nanobot Warmups", the inked version of one of my first pieces, based on a card game created by Benji Michalek of Derpy Games. Nanobot Battle Arena is a cool game, and Benji gave me permission to create a piece based on the images he uses on the cards. I named it 'Nanobot Warmups" because the bots in each square can't get to each other, so clearly they aren't in a battle yet. I figured, just like any arena battle, the players need to get warmed up first! Once finished, it will be quite the rainbow of color!

You'll also see stories and pictures of the things that inspire me, information about some of my finished pieces explaining where I came up with the ideas and symbols I used, articles about creating with colored pencils, posts about experiments in new techniques - both what worked and what didn't. So far, (knock on wood,) I haven't had any major disasters, but if I do, I'm sure I'll be sharing them as well. Shows I attend will be posted in my calendar, found at the Events tab, but I may occasionally post about a previous event if something interesting happens during the show.