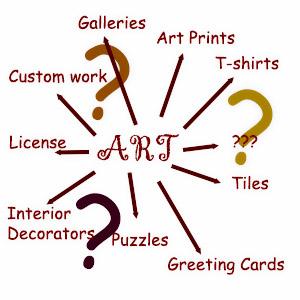 I had an interesting conversation with another artist last weekend. We were both at the Artist Alley table in the exhibition hall at Detcon1 in Detroit Michigan. I had mentioned that I was planning to try making a more significant income from my art, with a 5-7 year plan for reaching my goals. His response was positive, and he actually thought I only needed 2-3 years. He makes a living at his art, and the key, he said, was multiple income streams. It made me start thinking, and I realized that in a way, I was already planning in that direction.

Currently, I'm showing my original art and limited edition prints through science fiction/fantasy conventions. But I'm also selling prints of my art online, and planning my portfolio for attempting to get gallery representation. I've been thinking about researching selling my art on t-shirts and creating puzzles from some of my more complex pieces. I'm starting to research the interior decorator market, since I'm perfectly willing to do custom pieces and custom color pallets. I also have some ideas for the wedding/family market. I was working on some 6x6 inch pieces during the convention, and several people mentioned art tiles, another product area. An interior designer who looked at my work mentioned one of my pieces would look fabulous as a custom high-end silk scarf, leading to thoughts of the fashion industry, wallpaper patterns, fabric patterns, etc.

If you just read the last paragraph and felt a bit overwhelmed, I reached that point this weekend as well. The sheer number of products that have art on them is huge. How do you decide which options to pursue? Will selling a license to print your art on a greeting card make your original painting more or less valuable? Do you only want to sell to high-end buyers or do you want to market to anyone who might like your work? Do you limit yourself to just one or two outlets, or do you try to get your art anywhere and everywhere? Do you specifically cater to markets by painting what is "popular", or do you create what you want and then look for a market for it?

Lots of tough questions, and I'm just beginning the process of determining which paths to take. One thing I do know is that I don't want to just pick one path. But since I'm just starting out, picking ALL the paths is also a bad idea. Having too many goals just makes it harder, if not impossible, to meet any of them. So I'm going to pick 3 or 4 and try those, then re-evaluate. Gallery representation is definitely on the list, as is the interior decorator market. I'll continue to show at the science fiction conventions, since they're something I enjoy doing. What else I target is still up in the air, but I would like to try at least one "popular product" like t-shirts, puzzles, mugs or the like with some of my simpler pieces.

I just have to keep reminding myself that I don't have to meet all of my goals *today*. I have many years ahead of me creating my art, and I just need to take it one step at a time.